Azathoth


Developer
This item is dedicated to: MountainDrew/Fabsol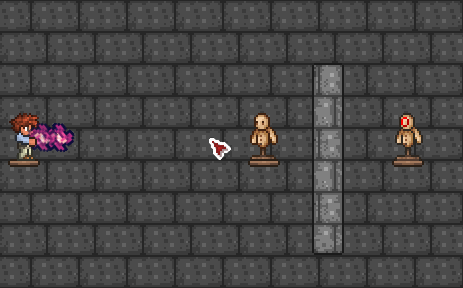 The Azathoth is a craftable post-Moon Lord developer yoyo that can also be dropped by Supreme Calamitas while in Expert Mode. While in use, the Azathoth constantly releases green cosmic orbs. Each cosmic orb can fire up to six hitscan lasers at nearby enemies before vanishing. The orbs, their lasers, and the yoyo itself all ignore NPC immunity frames, allowing the Azathoth to damage enemies unbelievably rapidly.
Its best modifier is Godly.
The Azathoth moves extremely quickly compared to other yoyos, allowing it to more easily track fast enemies.
The name Azathoth is a reference to a H.P. Lovecraft deity, much like Cthulhu. In the Cthulhu Mythos, Azathoth is said to be the king of the Outer Gods, whose dream constitutes all of reality.
The Azathoth's projectiles and effects are a reference to the Berserker Nightmare from the Avalon Mod.
Calamitous Essence •

Bar •
Crystyl Crusher

Animus •

Draconic Destruction •
Earth •

Elemental Excalibur •

Red Sun •

Azathoth •

Nanoblack Reaper •
Triactis' True Paladinian Mage-Hammer of Might •

Illustrious Knives •

Soma Prime •
Svantechnical •
Contagion •

Voidragon •

Apotheosis •
The Dance of Light •
Eternity •

Fabstaff •

Staff of Blushie •

Endogenesis •

Flamsteed Ring •
Temporal Umbrella •

Scarlet Devil

Demonshade armor •
Profaned Soul Crystal •

Dye
Weapons:

Melee Weapons •
Ranged Weapons •


Magic Weapons •
Summon Weapons •

Rogue Weapons •

Classless Weapons